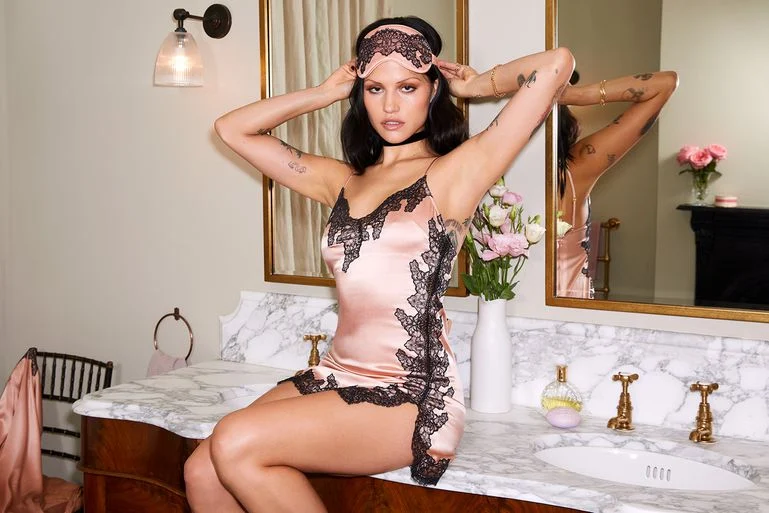 Agent Provocateur Review
About Agent Provocateur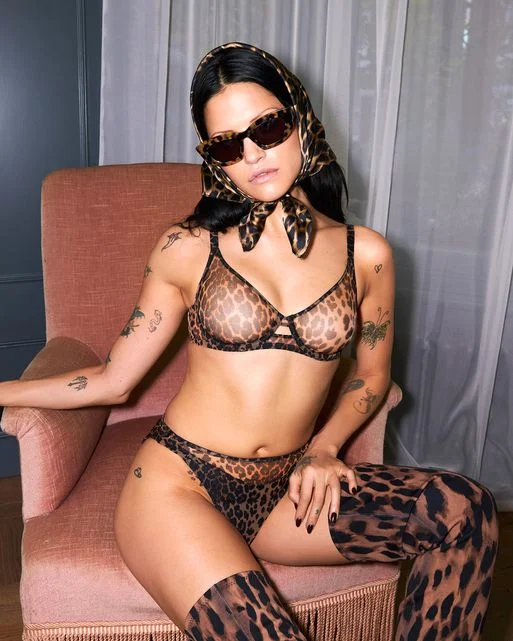 Agent Provocateur is a luxury lingerie brand known for its provocative and glamorous designs. The company was founded in 1994 by Joseph Corré, the son of fashion designer Vivienne Westwood, and Serena Rees. The brand quickly gained recognition for its unique combination of high-quality craftsmanship, sensuality, and avant-garde aesthetics.
Agent Provocateur's lingerie collections feature a blend of classic and contemporary styles, often incorporating elements like lace, satin, silk, and intricate detailing. The brand's designs aim to empower women and celebrate their sensuality, offering a range of lingerie pieces from bras, panties, and corsets to robes, hosiery, and accessories.
Agent Provocateur boutiques are known for their luxurious and sensual atmospheres, often featuring plush interiors, boudoir-inspired décor, and discreetly displayed lingerie. The brand has expanded globally and has stores in major cities around the world, including London, New York, Paris, and Hong Kong.
Over the years, Agent Provocateur has collaborated with renowned photographers, models, and celebrities to create provocative and visually striking advertising campaigns. Their campaigns often challenge traditional notions of femininity, embracing themes of seduction, empowerment, and female empowerment.
Agent Provocateur has expanded its product offerings to include swimwear, nightwear, fragrances, and accessories, further establishing itself as a prominent luxury brand in the fashion industry.
Agent Provocateur Product Review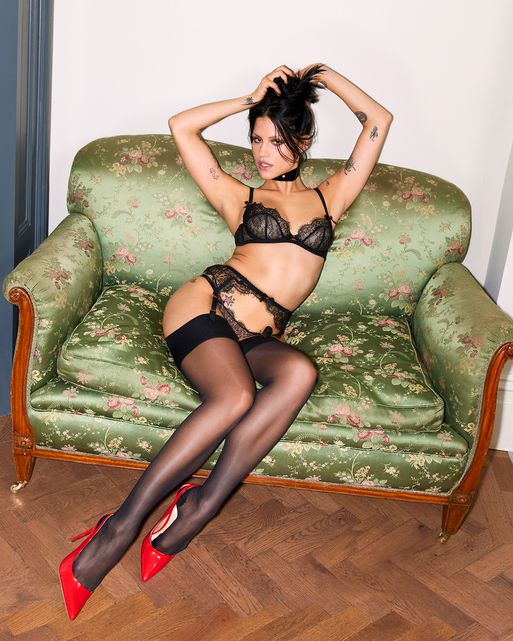 Agent Provocateur offers a wide range of products that cater to various aspects of intimate apparel and luxury lifestyle. Here are some of the main product categories offered by Agent Provocateur:
Lingerie: Agent Provocateur is primarily known for its exquisite and sensual lingerie collections. They offer a diverse selection of bras, panties, thongs, briefs, suspenders, corsets, bodysuits, and garter belts. These pieces are crafted from luxurious fabrics such as lace, satin, silk, and tulle, and often feature intricate details, embroidery, and embellishments.
Swimwear: Agent Provocateur's swimwear collection includes bikini sets, swimsuits, and beachwear. These designs showcase the brand's signature style with daring cuts, glamorous accents, and eye-catching prints. They offer a range of styles, from retro-inspired to modern and minimalist, ensuring a diverse selection for different tastes.
Nightwear: Agent Provocateur offers a range of sensual nightwear, including robes, camisoles, babydolls, chemises, and pajama sets. These pieces are designed to combine comfort and luxury, often using soft fabrics like silk and satin and featuring delicate trims and lace details.
Hosiery: The brand offers a selection of hosiery, including stockings, tights, and hold-ups. These accessories are designed to complement their lingerie and complete the overall look.
Bridal Collection: Agent Provocateur has a dedicated bridal collection featuring lingerie, nightwear, and accessories designed for brides. These pieces often incorporate delicate lace, intricate detailing, and feminine silhouettes, offering a touch of luxury for the special occasion.
Accessories and Fragrances: Agent Provocateur also offers a range of accessories such as gloves, harnesses, jewelry, and sunglasses. They have also released fragrances that capture the brand's sensual and provocative essence.
It's worth noting that Agent Provocateur's product offerings may vary over time as they release new collections and adapt to evolving fashion trends.
Agent Provocateur Balconette Underwired Bra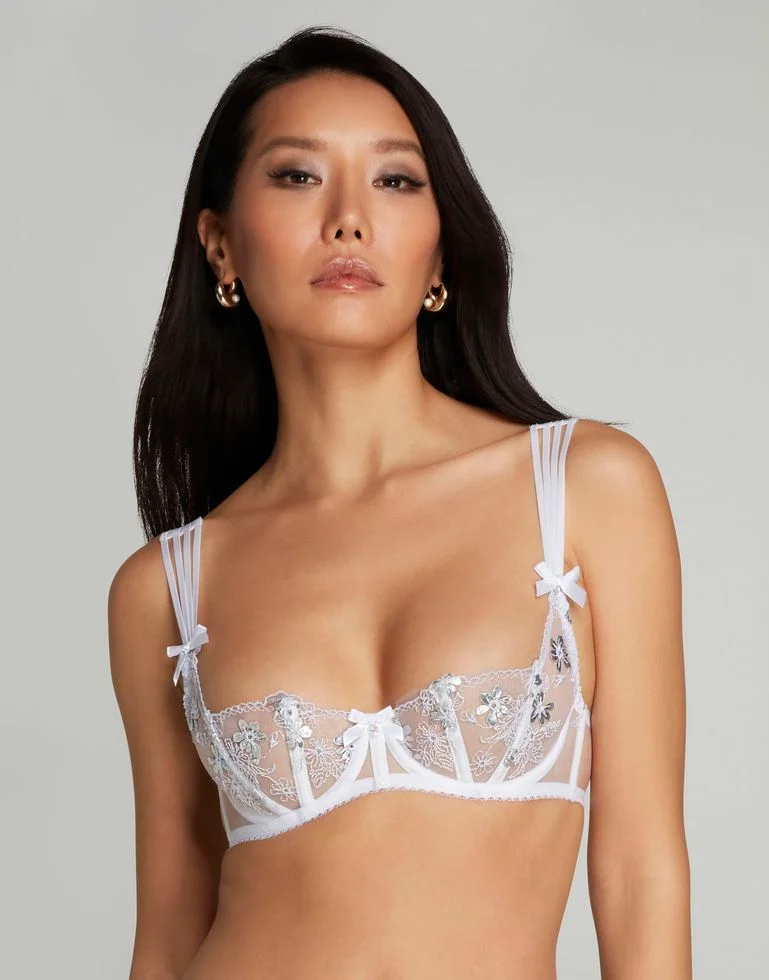 Details
A set that's pure magic. We created 3D iridescent flowers and intricate embroidery that bloom across soft white tulle. Next, we added pretty strapping details and silk-bound boning to frame and enhance your figure. Finally, we added a twinkling crystal for an angelic, ethereal sparkle.
Balconette shape
Swiss embroidery
Laser cut 3D foiled flowers
Silk-bound boning
Aurora borealis crystal hangs between cups
Wear with the rest of the Skylee range for pure lingerie enchantment
Agent Provocateur Strapless Bikini Top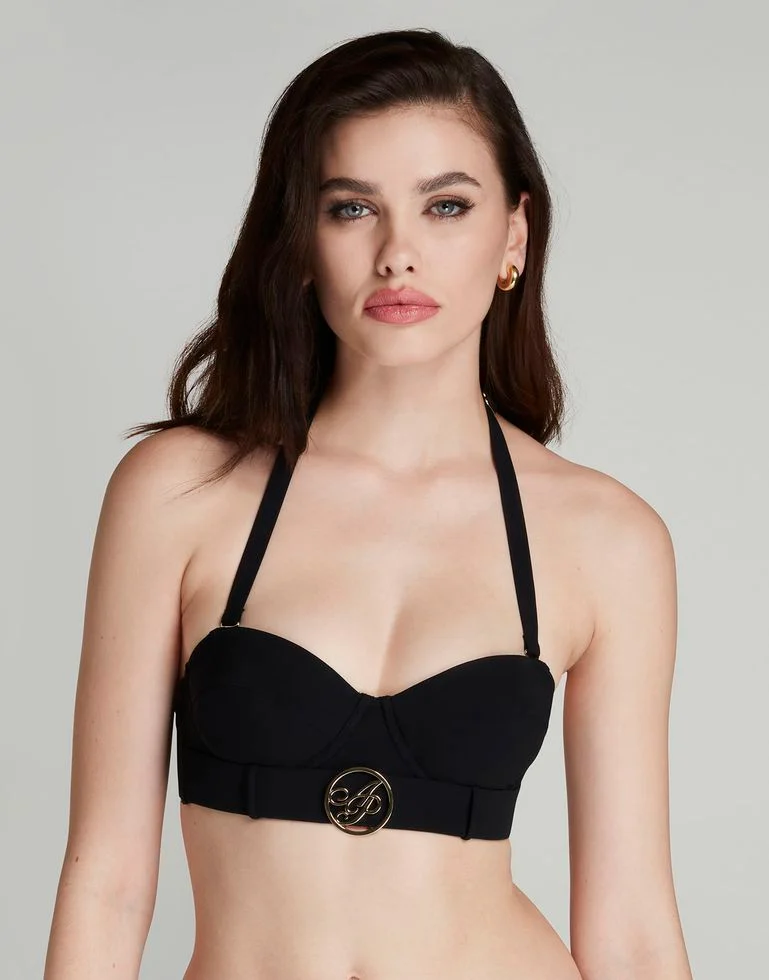 Details
In a design inspired by ballet leotards, bold Laurella is crafted from a luxurious Italian fabric.
Convertible two-way design can be worn with or without straps
Moulded, wired cups
Elasticated non-functional belt detail
Bespoke AP branded gold-tone hardware
Agent Provocateur Tieside Bikini Bottom
Details
Book your next flight with the timeless Malisa as your companion.
Black bikini brief
Tie sides
Luxurious Italian fabric
Flattering ruching at the rear
Gold toned rings
Agent Provocateur Short Sleeve T-Shirt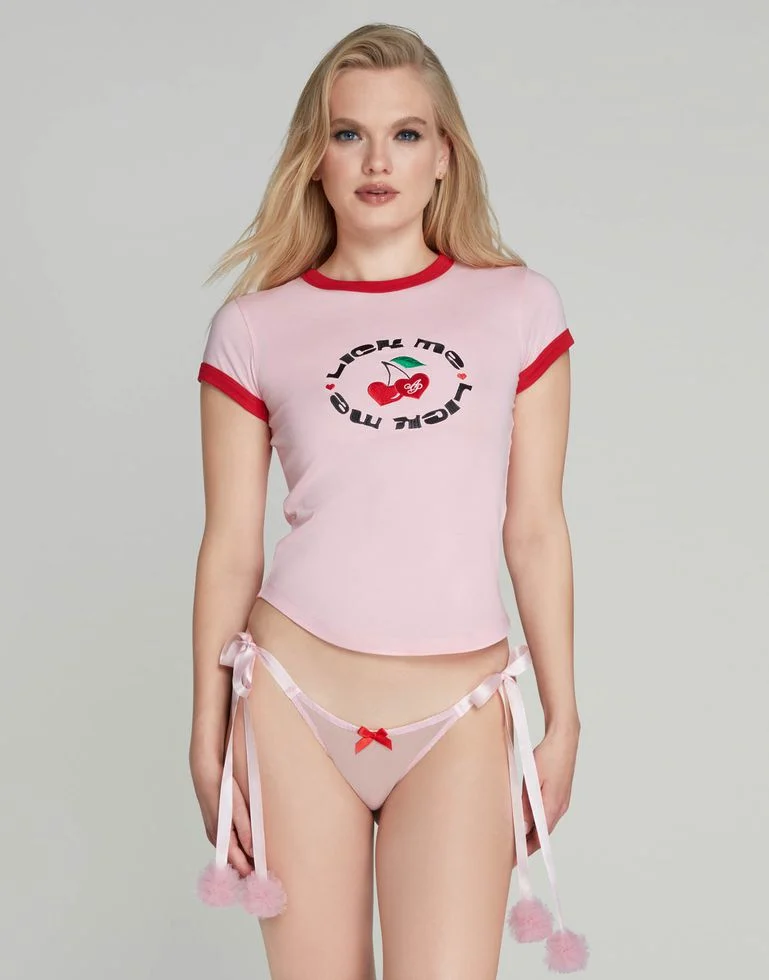 Details
Sometimes you need to give them clear instructions. The cheeky Lick Me range lets your lover know exactly what you want them to do.
Crew neck
Regular fit
Cut from organic cotton jersey
'Lick Me' slogan on front
Agent Provocateur Padded Corset Underwired Bra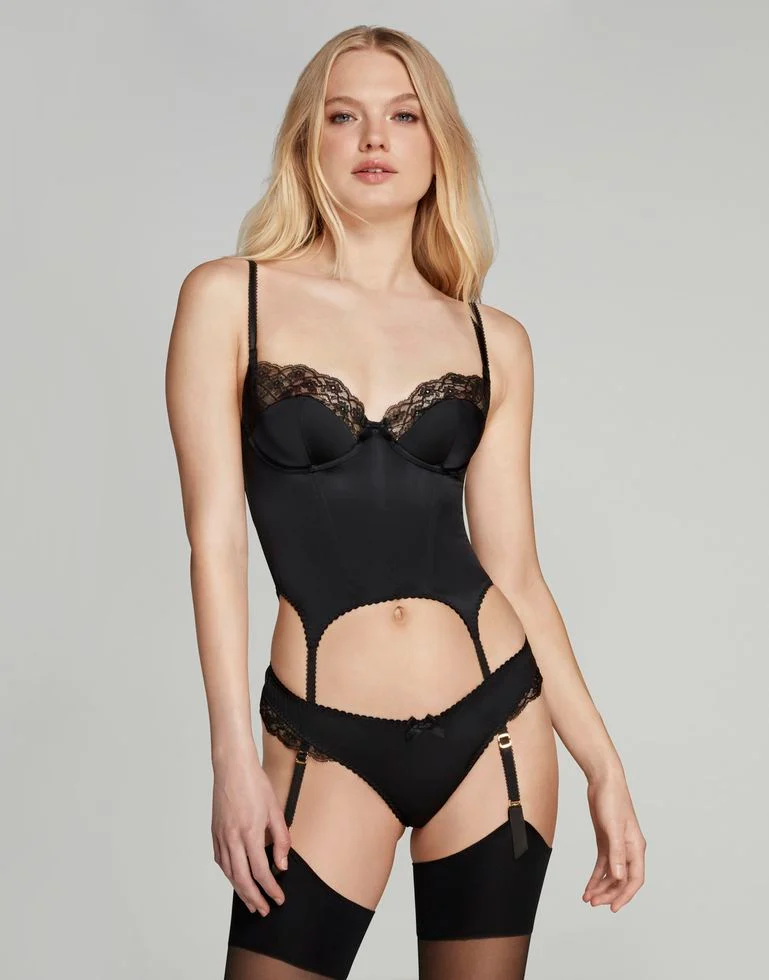 Details
Ayla's ultra-wearable shapes and flattering fits are updated with a minimalist vibe.
Underwired style
Cut from black silk satin with Leavers lace decoration
Statement, modern corset-style silhouette
Centre front boning with satin ribbon lacing
Finished with statement suspender straps
Matching black bow sits discreetly between cups
Style with Ayla's equally sumptuous thong
Agent Provocateur Oversized Hoodie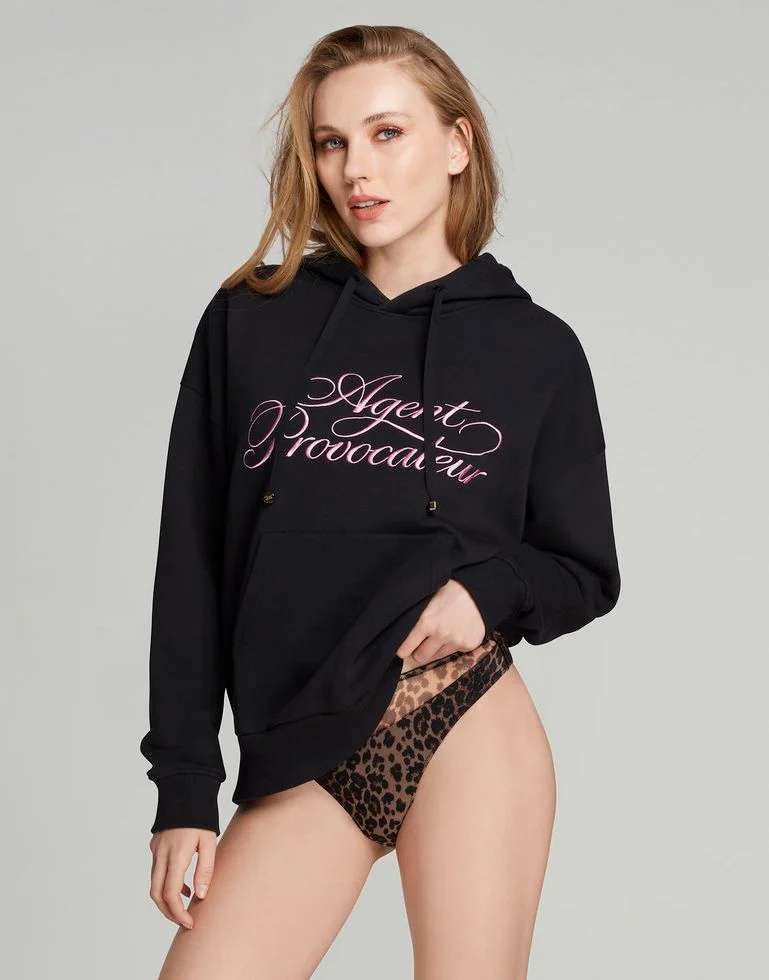 Details
Take your rest and recovery to sensual new heights with Rayley's range.
Relaxed style
Oversized fit
Luxe-athleisure aesthetic
Crafted from 100% pure organic cotton loopback jersey
Pink 'Agent Provocateur' logo embroidered on chest
For post-workout wind-downs or off-duty dressing, indulge in Rayley's entire set
Agent Provocateur Short Dressing Gown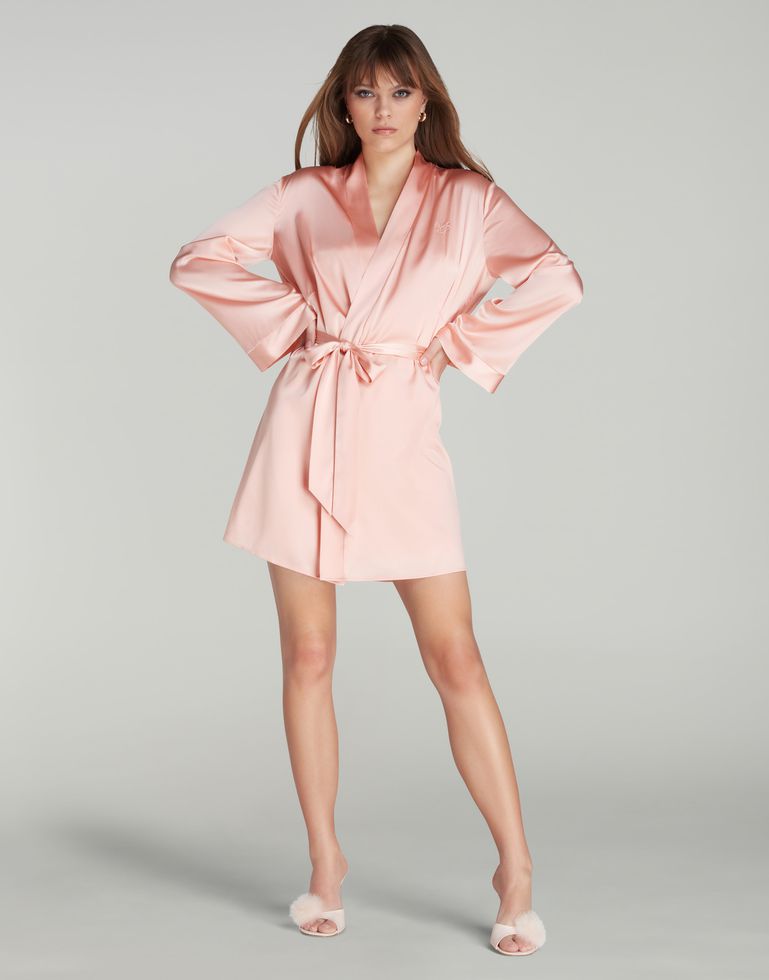 Details
Alluring Arlette is the little bit of luxury you deserve every day (and night). Back in a luscious blush pink, she blends sumptuous silk with classic shapes that work as nightwear, loungewear, anywhere-wear.
Pink dressing gown
Smooth silk-satin with a little stretch for comfort
Short, thigh length cut
Tie belt at waist
Cute AP logo embroidered on the chest
Pair with the rest Arlette range for dreamy sleep-time glamour
Is Agent Provocateur Worth It?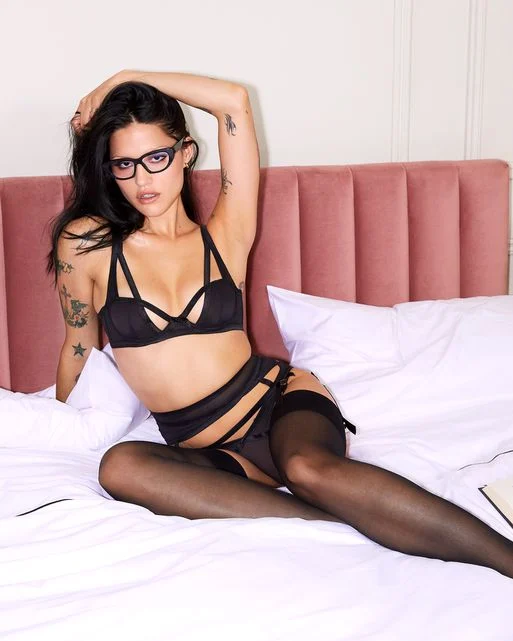 Whether or not Agent Provocateur is worth it depends on individual preferences, budget, and priorities. Here are some factors to consider when assessing the value of Agent Provocateur:
Quality: Agent Provocateur is known for its high-quality craftsmanship and attention to detail. Their lingerie pieces are typically made from luxurious fabrics and feature intricate designs. The brand's commitment to quality can contribute to the longevity and durability of their products.
Design and Aesthetics: Agent Provocateur is renowned for its provocative and glamorous designs. If you appreciate their unique blend of sensuality, sophistication, and avant-garde aesthetics, investing in their products may be worthwhile to you. Their designs often exude luxury and can make the wearer feel confident and empowered.
Fit and Comfort: Well-fitting lingerie that feels comfortable is crucial for both comfort and confidence. Agent Provocateur offers a variety of sizes and styles to cater to different body types and preferences. However, it's important to note that individual fit and comfort may vary, and some people may find other lingerie brands more suitable for their needs.
Price: Agent Provocateur is positioned as a luxury brand, and its products generally come with higher price tags compared to mainstream lingerie brands. The higher cost is reflective of factors such as the brand's reputation, craftsmanship, and exclusivity. Consider your budget and willingness to invest in luxury lingerie when evaluating the value proposition.
Emotional and Psychological Value: For some individuals, wearing Agent Provocateur lingerie can provide a sense of indulgence, luxury, and self-expression. If you derive significant emotional or psychological value from wearing their designs, it may be worth the investment to you.
Whether Agent Provocateur is worth it is a subjective judgment that varies from person to person. It's advisable to carefully assess your own priorities, preferences, and budget before making a purchasing decision. Additionally, exploring reviews and feedback from other customers can provide insights into the overall satisfaction and experiences of people who have purchased from Agent Provocateur.
Agent Provocateur Promotions & Discounts
Agent Provocateur occasionally offers promotions and discounts to provide customers with opportunities to purchase their products at reduced prices. However, the specific promotions and discounts available may vary over time. Here are a few common types of promotions and discounts you may come across:
Seasonal Sales: Agent Provocateur typically holds seasonal sales, such as end-of-season or holiday sales, where you can find discounts on selected items. These sales often offer a percentage off the original price, making it a good time to purchase items at a lower cost.
Limited-Time Promotions: Agent Provocateur occasionally runs limited-time promotions, such as flash sales or special discounts for specific collections or product categories. These promotions are typically announced on their website, social media platforms, or through email newsletters.
Loyalty Programs: Agent Provocateur may have a loyalty program or membership scheme that provides exclusive offers, early access to sales, and other benefits for their loyal customers. These programs often require signing up and may involve accumulating points or reaching certain spending thresholds to unlock rewards.
Newsletter Sign-Up Discount: Some brands offer a discount or special offer when you sign up for their newsletter. Consider subscribing to Agent Provocateur's newsletter to receive updates on new arrivals, promotions, and potentially receive a discount on your first purchase.
Outlet Stores: Agent Provocateur has outlet stores in certain locations where you can find discounted merchandise from previous seasons or special clearance items. These outlets offer an opportunity to purchase Agent Provocateur products at lower prices.
It's important to keep in mind that while promotions and discounts can provide cost savings, availability may be limited, and popular items may sell out quickly. Additionally, it's always a good idea to review the terms and conditions of any promotion or discount to ensure you understand any restrictions or limitations that may apply.
For the most up-to-date information on promotions and discounts, it's recommended to visit the official Agent Provocateur website or subscribe to their newsletter to receive notifications directly from the brand.
Where to Buy Agent Provocateur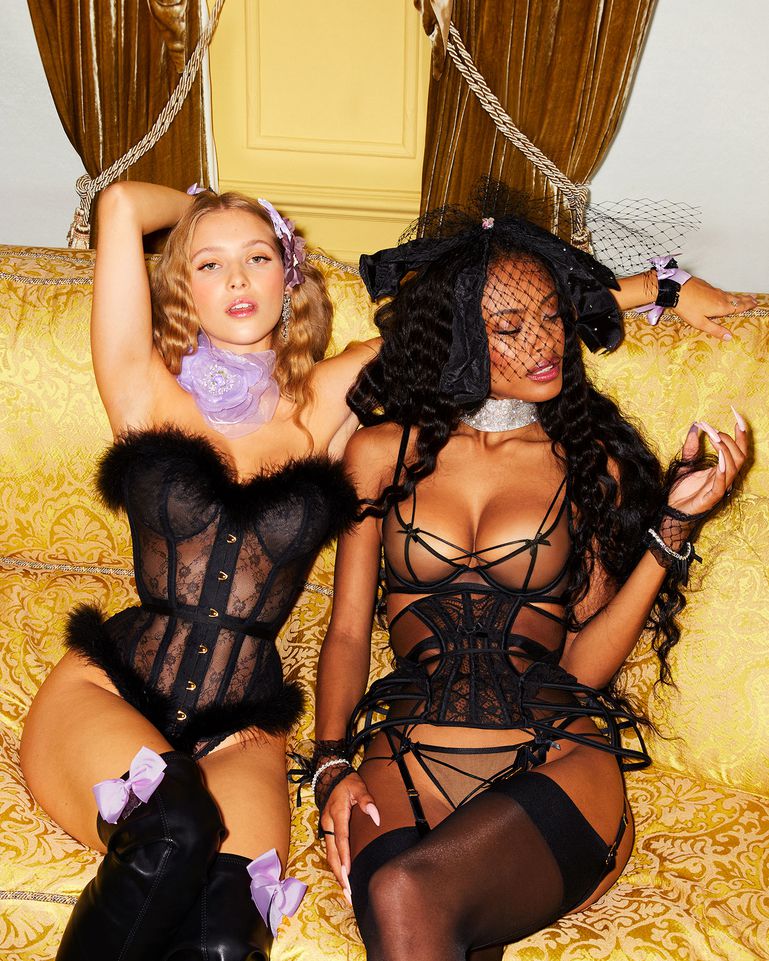 Agent Provocateur products can be purchased from various sources. Here are some common places where you can buy Agent Provocateur items:
Official Website: The official Agent Provocateur website (www.agentprovocateur.com) is the primary and most reliable source for purchasing their products. The website offers a wide selection of lingerie, swimwear, nightwear, and accessories, and provides worldwide shipping to many countries.
Physical Stores: Agent Provocateur operates its own boutiques in several cities around the world. These boutiques offer an immersive shopping experience, allowing customers to explore the brand's collections in person. You can visit the "Stores" section on the Agent Provocateur website to find the nearest boutique location.
Department Stores: Some high-end department stores and luxury retailers carry a selection of Agent Provocateur products. These may include stores like Harrods, Selfridges, Saks Fifth Avenue, and Nordstrom, among others. Keep in mind that availability may vary depending on the specific location and stock.
Online Retailers: Several online retailers specialize in luxury lingerie and may carry Agent Provocateur products. Examples include Net-a-Porter, MatchesFashion, and Farfetch. It's important to verify the authenticity and reputation of the online retailer before making a purchase.
Outlet Stores: As mentioned earlier, Agent Provocateur has outlet stores in select locations. These outlets offer discounted merchandise from previous seasons or special clearance items. If you're looking for more affordable options, visiting an outlet store could be worth considering.
When purchasing Agent Provocateur products, it's advisable to ensure you are buying from authorized and reputable sources to ensure the authenticity and quality of the items. The official website and physical boutiques are generally the most reliable sources, followed by authorized department stores and reputable online retailers.
FAQ
How do I determine my size in Agent Provocateur lingerie?
Agent Provocateur provides a size guide on their website to help you find your correct size. It's recommended to measure yourself accurately and refer to their size chart for guidance. Additionally, their customer service team can assist you with sizing inquiries.
Can I return or exchange a product purchased from Agent Provocateur?
Agent Provocateur has a return and exchange policy that allows customers to return or exchange unworn, unwashed, and undamaged items within a specified timeframe. It's advisable to review their return policy on their website or contact their customer service for specific details.
Are Agent Provocateur products ethically made?
Agent Provocateur is committed to responsible sourcing and ethical manufacturing. They have implemented measures to ensure fair labor practices and environmentally friendly production. They work with suppliers who meet their ethical standards and strive for transparency and sustainability.
Does Agent Provocateur offer gift packaging and personalization?
Yes, Agent Provocateur provides gift packaging services for online and in-store purchases. You can select gift wrapping options during the checkout process on their website or inquire at their boutiques. They may also offer personalization services for certain items.
How can I contact Agent Provocateur customer service?
Agent Provocateur offers customer support through various channels. You can typically reach their customer service team via email, phone, or through the contact form on their website. Contact information and hours of operation may vary depending on your location.
Does Agent Provocateur offer alterations or custom orders?
Agent Provocateur does not typically offer alterations or custom orders. Their products are designed to fit standard sizing and alterations may void the return policy. However, it's always best to check with their customer service for specific inquiries.